"Its a femur... it's a femur bone. A femur happens to be a human thigh bone, Ray. I mean, look at the size of this thing. You think this came off a chicken or something?"
―Art on the Femur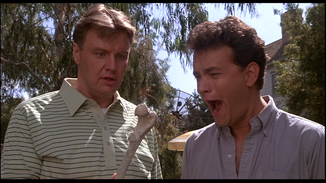 A Femur is a human thigh bone. It is the thickest and largest bone in the human body, and is as thick as a steel plate.
The 'Burbs
Edit
While digging under the Klopek fence, Vince discovers a bone. Thinking nothing of this, Art throws it only to later discover that it is a real bone, claiming it to be a human femur, which he knew because it's Anatomy 101.
The Femur came from one of The Knapps, although they originally thought it to belong to Walter Seznick.