Welcome to The burbs Wiki
The 'Burbs Wiki is a collaborative website dedicated to documenting the eccentric behavior of the erratic suburbanite residents of Mayfield Place who think that their new neighbors are satanists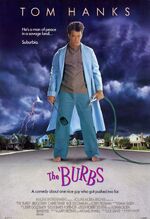 The 'Burbs
is the hit 1989 dark comedy film. The 'Burbs was directed by
Joe Dante
and starred Tom Hanks, Rick Ducommun, Bruce Dern, Carrie Fisher, Corey Feldman and the late Henry Gibson. It was written by Dana Olsen, who also makes a cameo appearance. The film's title is short for "the suburbs" as the film pokes fun at suburban environments and their eccentric dwellers.
Community content is available under
CC-BY-SA
unless otherwise noted.